So I have decided to document some astrophytum crosses I have been working on. I will try to updated this thread regularly but as things go in the cactus world, I may not have results to show for sometime. Anyway, I have two projects running at the moment. One I just started today. The other has been ongoing for a few years.
To keep track of things I will name each project as follows:
Project Caprico-phytum: This one has been on going for several years. I started by making several crosses of the following:
A. asterias x A. capricorne cv crasspinium
A. Asterias x A. capricorne cv minor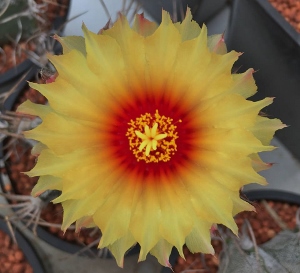 The A. asterias used in both crosses is the same "mother" plant.
I then selected 2 plants from roughly 75 seedlings of each. The offspring are F1 hybrids. Once these plants have reached flowering size I will cross them to create an F2 generation. From this selection I will then make a number of back crosses (crossing F2 generation back with parent plants) using plants with the desirable traits.This is the starting point for locking in desirable traits and stabilising a cultivar.
If no desirable characteristic shows up in the F2 generation or some very unexpected traits come out, I may choose to continue hybridising before attempting to stabilise. Typically back-crosses are made using an F1 hybrid instead of an F2. But considering I ended up with two very similar F1's from two very different crosses I have decided to attempt a back-cross with F2's. If the F2 generation doesn't yield a desirable result I will always be able to attempt an F1 back cross using the two plants below. The only problem with this is that I would then end up with two separate breeding lines which has the potential to become very complicated to manage. (as you can probably imagine from the ramblings above) F2 generations typically exhibit a higher percentage of homozygous genes and lack of vigour so I will be undertaking a very rigorous selection process to ensure that I get the traits I desire whilst still maintaining vigour. I anticipate that this will take several rounds of crossing, growing out and selection to find the most suitable plants.
Left is cv. minor hybrid. Right is cv. crasspinium hybrid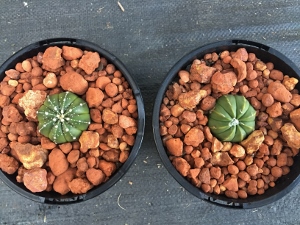 As you can see from the picture, the rib structure is almost identical. This is the trait i wish to lock in first before attempting to alter the spination and wool patterns.
Project Quadstar: This is the one I have started today. I won't know if I can truly begin until a fruit forms but the pollination was thick, heavy and very controlled so the chances are good.
Cross is between:
A. asterias and A. myriostigma quadricostatum